The

Smart

Business

Enabler
Novel, end to end IT solutions for all business functions, to help independent enterprises grow and compete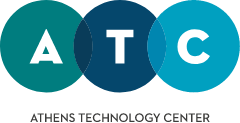 More than 30 years of experience Established 1987
95+ employees focus on software development and support
Successfully serving over 16 industries
Global Presence – HQs in Greece, Clients in US, EMEA & SEA
Supply and manage the appropriate technology and resources to support the entrepreneurial spirit and profitable growth of medium and large sized companies and Government entities around the globe.
We follow a business-led and solution focused approach, making sure we really understand where the pain points and critical elements are within the business.
Agility,

Trust

and

Commitment
Our continued growth is based on relentless innovation, a rather diverse portfolio, our ability to anticipate and effectively respond to ever-changing customer requirements, and a broad ecosystem of partners.
We operate a dedicated R&D business unit for over 20 years.
ATC's Innovation Lab teams focus on the most innovative applications of artificial intelligence (AI) and big data analytics, as their goal is to transform promising ideas into specific and durable software systems and platforms, in a cost-effective and time-efficient way.
For the period 2014 – 2018, we were the most successful SME in Greece in terms of funding provided by projects co-financed by the European Commission under the Horizon 2020 program.
Awards

and

Accreditations
Saba Services Partner of the Year for Europe, Middle East & Africa (EMEA)
Saba Cloud Accredited Business Consultant
Oracle SaaS Experts in the HCM sector
Google DNI Fund award to work on automated workflows in news production
Oracle Customer Experience (CX) Cloud Suite Partner
Saba Partner Sales Accreditation
We have applied an Integrated Management System certified according to the International Standards ISO 9001:2015, ISO 14001:2015 and ISO 45001:2018
We have applied an Information Security and Privacy Management System certified according to the International Standards ISO/IEC 27001:2013 and ISO/IEC 27701:2019
Sign up for our newsletter​
Keep in touch with our latest news